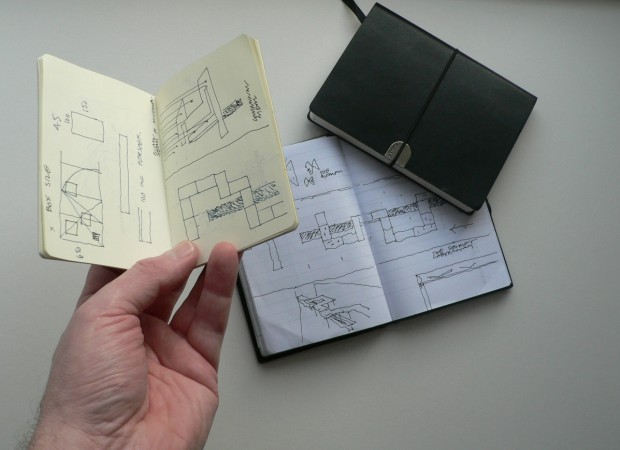 The Initial research and first selected notebooks were made public through an exhibition commissioned by PLACE in Belfast. The exhibition was designed by Paul Clarke and Niall O'Hare (graduate of the MArch programme -and who built the structure in the school workshop). It was conceived as a big drawing table that people could gather around and that also acted as a continuous lightbox with paper lanterns to illuminate the sketchbooks within.
It was designed to configure into different geometric shapes -depending in the location- and to showcase the different approaches to sketchbooks in a way that avoided preconceived classifications.
Since the initial display in Belfast in February 2010 the exhibition has travelled to many different venues such as Cork City Hall and Dublin City Council as well as The Verbal Arts Centre in Derry and the Fumbally Exchange.
At each new venue the display has been developed to engage with the specific context and show the work of local architects working with sketchbooks. Curator talks and workshops has broadened the engagement and impact of the exhibition -bringing it to as wide an audience as possible- and hoping to inspire the joy of drawing that we have naturally as children and that if nurtured continues to be so useful in all aspects of the creative industries.
Exhibitions
PLACE Belfast: 4 Feb – 27 March 2010
University of Ulster – Festival of Art and Design: 8th – 19th June 2010
University College Dublin: 10th Feb 2011 – 11th May 2011
Cork City Hall: 12th May – 5th August 2011
Fumbally Exchange: 9th Nov 2011 – 15th Jan 2012
Dublin City Council Civic Offices: 31st Jan – 17th Feb 2012
Verbal Arts Centre, Derry: 20th Feb – 12th March 2012
The Playhouse, Derry: 12th March – 26th March 2012
Obel Tower: 9th Aug – 6 Spetember 2012